Featuring sewn through construction to reduce weight and GORE-TEX INFINIUM™ WINDSTOPPER® Fabrics, this highly compressible, breathable, weather resistant, and windproof parka is perfect for light & fast pursuits in cold weather.
*Not completely waterproof.
Specs
Material: (Fabric) GORE-TEX INFINIUM™ WINDSTOPPER® Fabrics [30-denier Ballistic® rip-stop nylon][standard DWR treatment]
(Lining) 20-denier Ballistic® nylon taffeta [antistatic finished]
(Insulation) 800 Fill Power EX Down
Weight: 378g
Color: DARK BLUE (DKBL), BLUE (BL), RED (RED), MAROON (MN)
Size:  L, XL only (See Sizing Guide)
Details
About the material: EX Down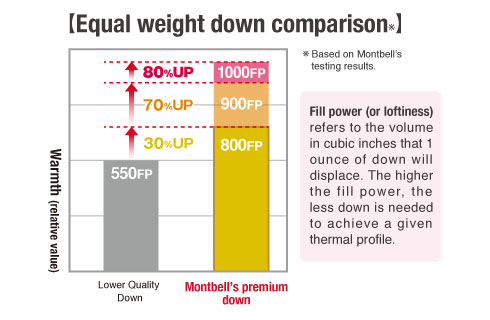 World class, high quality down
mont-bell's premium down comes from water fowl that live in regions with seasonal temperature extremes. The down balls from birds in such regions are characteristically much larger.
Large down balls hold more warm air, which translates to needing less down to provide exceptional warmth retention.

Lightweight yet warm
When compared by weight to lower quality down, an equal amount of premium down is loftier and has better warmth retaining properties.
About the material: Ballistic nylon

Ballistic nylon is one and a half times more abrasion resistant than other similar weight fabrics and boasts three times the tear strength of nylons that are almost 20% heavier. Because of this, Ballistic nylons have allowed us to reduce the weight of many of our products by more than 50% without sacrificing the durability. We create Ballistic nylons by heating and stretching nylon fibers. Much like Tensiled steel, this process aligns the nylon molecules in each fiber, dramatically improving the strength and stamina of the fabric.
Sewn through construction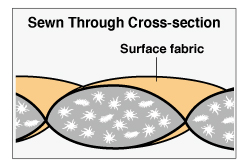 In sewn-through construction, stitch lines go from the exterior of the garment directly to the lining material to join the two layers, creating small pockets for down insulation. This simple method provides an economical way to keep down in place, while leaving the garment as light as possible.
Maintenance of Down Leakage Warning (38-102)
In the event that small feather spines or down clusters work their way through the fabric it is best to reach behind the fabric and pull the offending down cluster BACK INTO its down chamber. Gentle massage of the area will promote "self sealing" and re-align the fabric threads, while better distributing the down insulation. If at all possible avoid attempting to pull the cluster from the bag or garment. Doing so can cause the exposed cluster to tangle with others and draw them from the chamber.
Care Information
Washing Instructions
USE DOWN SPECIFIC DETERGENT
GENTLE CYCLE WASH WITH COLD WATER AND HANG IT TO DRY
IF YOU WISH TO USE A DRYER, PLEASE TUMBLE DRY WITH LOW HEATPATTING THE ITEM WILL HELP RESTORE LOFT TO THE DOWN
WASHING ONLY AT THE END OF SEASON SHOULD BE ENOUGHDO NOT WASH FREQUENTLY, IT MAY CAUSE FABRIC DAMAGE