The revolution continues. Montbell forever changed the landscape of the backcountry apparel world with the North American introduction of the UL Down Inner Jacket in 2004. Meticulous refinement over the last decade has led to Montbell new Superior Down Series!
This growing family of products deftly balances the characteristics that define reliable ultra-light apparel. Light in weight and highly compressible these garments travel well, but when needed are transformed into lofty down sweaters of surprising warmth.
Prized by budget conscious backcountry enthusiasts around the world, the Superior Down Series is "what you need" when a versatile warm layer is critical, minimal weight is paramount, and space in your pack is at a premium.
Specs
Material: 20-denier Ballistic® Airlight rip-stop nylon shell and lining (Standard DWR treatment and anti-static treatment) [Insulation] 800 Fill Power EX DOWN
Weight: 195g
Color: BLACK (BK) only
Size: XS, S, M, L, XL (Size guide)
#Actual colors may vary
Details
About the material: EX Down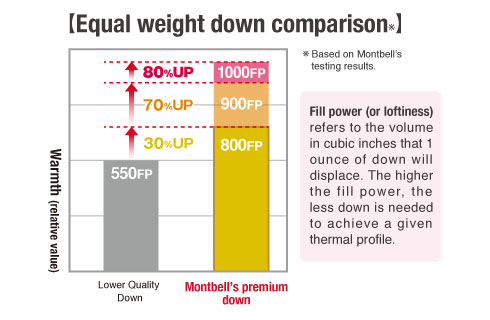 World class, high quality down
Montbell's premium down comes from water fowl that live in regions with seasonal temperature extremes. The down balls from birds in such regions are characteristically much larger.
Large down balls hold more warm air, which translates to needing less down to provide exceptional warmth retention.

Lightweight yet warm
When compared by weight to lower quality down, an equal amount of premium down is loftier and has better warmth retaining properties.
About Ballistic Airlight®

Ballistic Airlight® is made using the same nylon polymer as our Ballistic® material and a highly technical production process to create extremely fine, super thin threads. These threads are then woven into ultralight, gossamer fabrics that share the same characteristics as Ballistic®: one and a half times more abrasion resistance than other similar weight fabrics and boasts three times the tear strength of nylons that are almost 20% heavier. Additionally, Ballistic Airlight® is often woven using different techniques to create fabrics with radically different characteristics, such as fabrics that allow the garment to stretch or fabrics that "breathe" to release built up heat and moisture.
USE DOWN SPECIFIC DETERGENT
GENTLE CYCLE WASH WITH COLD WATER AND HANG IT TO DRY
IF YOU WISH TO USE A DRYER, PLEASE TUMBLE DRY WITH LOW HEATPATTING THE ITEM WILL HELP RESTORE LOFT TO THE DOWN
WASHING ONLY AT THE END OF SEASON SHOULD BE ENOUGH
DO NOT WASH FREQUENTLY, IT MAY CAUSE FABRIC DAMAGE