This cycling jersey supports stress-free riding with its outstanding fit and stretch properties. A high density weave of wickron®, a moisture-absorbing and diffusing fabric with anti-bacterial and deodorizing properties, allows for effective windproofing, and the brushed lining provides the right amount of insulation. This jersey makes long rides in cold weather comfortable. The original print designs are an active theme, matching the mood of daily cycling and road races.
Specs
Weight: 354g
Color: NAVY (NV), SUNSET ORANGE (SSOG)
Size: S, M, L, XL (See our Sizing Guide)
Style#1130350
#Actual colors may vary
Details
About the material: Wickron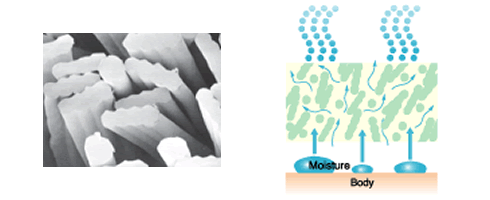 Made from 100% polyester fibers, the Wickron fabric is stretchable, soft like cotton, and odor resistant. It wicks moisture away from your skin and is very quick drying.

Once it is made, the Wickron fiber is mechanically dried, which gives it a "dog bone" cross section. By weaving these fibers, we obtained a lightweight, breathable material. Wicron products are great for use indoors and for warm weather activities.
Care Information
Washing Instructions
DRY WITHOUT DELAY SEPARATELY
AVOID USING FABRIC SOFTENER
CLOSE ZIPPER WHEN WASH