With excellent stretch and heat retention, this Jacket is designed for an active lifestyle. It is comfortable to wear thanks to the stretchability in the material. The lining is made with warm brushed fabric, which provides good insulation. The surface is smooth and therefore easy to layer, and it is elastic enough to handle vigorous movement. It can fully demonstrate its capabilities in strenuous situations such as Winter mountaineering and ice climbing.
Specs
Material: Stretch CLIMAPLUS® [47% nylon, 36% polyester, 17% polyurethane]
Weight: 345g
Color: BLUE BLACK (BLBK), GUNMETAL (GM)
Size available: S, M, L (Size guide)
# Actual Color may vary
Details
CLIMAPLUS™ Strech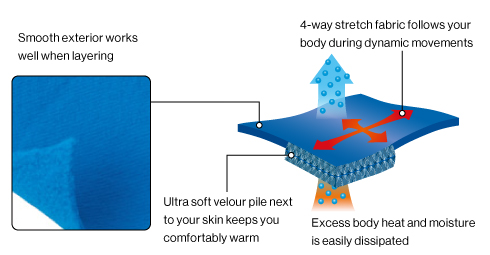 A unique blend of polyester (92%) and polyurethane (8%) fibers result in a highly breathable fleece that is soft to the touch, yet cradles you with ultra supportive 4-way stretch.Stretch CLIMAPLUS is suited to aerobic activities that require the warmth of mid-weight insulation in combination with complete freedom of movement.
Material Information (38-131)
This product is made using a material that has an excellent ability to stretch. Due to the material's construction, in some situations it can be damaged by friction. Avoid contact with high friction surfaces such as Velcro or nylon straps.
Care Information
Washing Instructions
WASH SEPARATELY
AVOID USING FABRIC SOFTENER