Made from 100% polyester fibers, the knitted fabric used in this T-shirt wicks moisture away from skin and dries quickly to accommodate an active lifestyle.
Montbell wickron® fabric allows these relaxed fit t-shirts great stretch and cotton-like softness for supreme comfort. Excellent wicking and quick to dry characteristics make these garments suited to those who enjoy active lifestyles. With unique prints, all day comfort, and low profile colors the tees provide you an affordable foundation that works well in town or on the trail.
Specs
Material: Wickron (100% Polyester)
Weight: 144g
Color:

PALE INDIGO (PLIG)

Size: XS, S, M, L, XL (See our Sizing Guide)
Style #1114144
#Actual colors may vary
Details
About the material: Wickron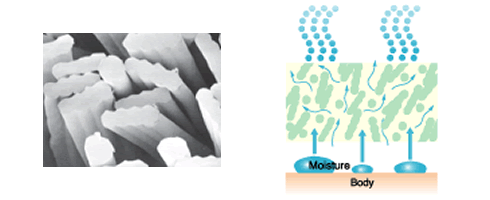 Made from 100% polyester fibers, the Wickron fabric is stretchable, soft like cotton, and odor resistant. It wicks moisture away from your skin and is very quick drying.

Once it is made, the Wickron fiber is mechanically dried, which gives it a "dog bone" cross section. By weaving these fibers, we obtained a lightweight, breathable material. Wicron products are great for use indoors and for warm weather activities.
Care Information
Washing Instructions
DO NOT RUB THE PRINT WHEN WET

DO NOT IRON ON PRINT
AVOID USING FABRIC SOFTENER
USE PRESS CLOTH