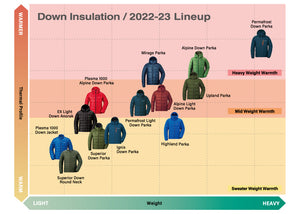 Sweater Weight Warmth
Light in weight and highly compressible these garments travel well, but when needed easily yield surprising warmth. As versatile thermal components, these pieces shine as a middle layers in shoulder seasons, while proving essential on their own in cool backcountry conditions.
PLASMA 1000 SERIES
Our highest quality down paired with our thinnest nylon in a no frills design to yield the absolute lightest insulating layer.
IGNIS DOWN PARKA
Our highest quality down paired with GORE-TEX INFINIUM™ WINDSTOPPER® provides sweater weight warmth when the added benefit of weather resistance can help you in a pinch.
EX LIGHT DOWN ANORAK
High quality 900 fill power goose and our thinnest nylon are married to a light weight design to maximize warmth to weight ratio.
SUPERIOR DOWN SERIES
Mid layer in cold weather and an outer layer for spring and fall trekking. Also perfect for everyday use around town or on the commute to work.
COMMITMENT TO MATERIALS, CONFIDENCE IN QUALITY
Montbell's down clothing is not just high quality and ultralight. From wind blasted, snowy peaks to everyday use on your way to the supermarket, Montbell makes a variety of down garments. Each jacket is designed for a specific use with different materials and features, such as unique quilting patterns, to produce the best possible product. This allows you to select the best piece to meet your needs.
Fill power is a measure of down's lofting ability, describing the amount of volume that one ounce of down displaces in a cylinder when weighted (measured in in3/oz). What does this mean in plain English? The higher the fill power, the higher the quality the down. Generally, 600-700 fill power down is considered good quality, with 700+ in the realm of high quality. Montbell's Down achieves fill power of 800 - 1000, giving it amazing loft, which in turn traps a high volume of dead air. This layer of dead air insulates the air inside the jacket warmed by your body, from the cold air outside the jacket. Check the"Down Fill Power: Explained"content to know more about down fill power.