Montbell Down Jacket Women's Ignis Down Parka Hoodie - Sweater Weight Warmth Water Resistance
Montbell Down Jacket Women's Ignis Down Parka Hoodie - Sweater Weight Warmth Water Resistance
Regular price
$56990
$569.90
Low stock - 2 items left

Inventory on the way
7 day exchange (except for base layers and underwear)
4-6 day trackable shipping
Minimal use use of plastic
---
The latest edition to Montbell's collection of 1000 fill power down garments is the Ignis® Down Parka. The envisioned versatile, premium down sweater and the R&D department did not disappoint. Utilizing GORE-TEX INFINIUM™ WINDSTOPPER® for the outer fabric imparts a measure of weather resistance to the Ignis®. Although the combination of 1000 fill power down and Goretex Infinium Windstopper certainly conjures ideas of tackling epic days in blasting frigid conditions, the Ignis® is more suited for cold conditions when moisture could potentially cause problems.
The Ignis® is a welcome addition to Montbell's collection of 1000 fill power products.
Features:
Finest 1000 Fill Power EX Down provides an extreme warmth-to-weight ratio
Unique "skip-stitch" quilting pattern reduces cold spots and minimizes heat loss
Sewn Through Construction keeps down insulation in place while lightening the weight
Downproofing helps keep down from escaping through the face fabric
2-Way Adjustable Hood offers a close-fit and visibility
Zip End Guard protects your chin and face
Weather resistant Aqua-Tect Zipper keeps out water in a lightweight form
Adjustable Alpine Cuff helps keep wind and snow out
Pocket Hem Adjuster allows for cinching the hem while helping keep out chill air
5 pockets (2 zippered hand pockets, 2 internal drop-in pockets)
Stuff sack included
Specs
Material: GORE-TEX INFINIUM™ WINDSTOPPER® 13-denier Ballistic® nylon ripstop Lining: 7-denier nylon taffeta Insulation: 1000 Fill Power EX Down
Weight: 239g
Color: Black (BK), IVORY (IV)
Size: S, M, L, XL (See Sizing Guide)
Compressed Size: Ø12 x 19 cm
Style: #1101595
Details
About the material: 1000 Fil Power EX Down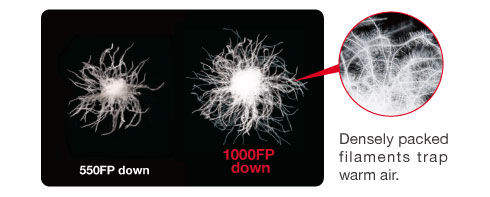 World Class, High Quality Down

Montbell's premium down comes from water fowl that live in regions with seasonal temperature extremes. The down balls from birds in such regions are characteristically much larger.

Large down balls hold more warm air, which translates to needing less down to provide exceptional warmth retention.
About the material: Ballistic Airlight®

Ballistic Airlight® is made using the same nylon polymer as our Ballistic® material and a highly technical production process to create extremely fine, super thin threads. These threads are then woven into ultralight, gossamer fabrics that share the same characteristics as Ballistic®: one and a half times more abrasion resistance than other similar weight fabrics and boasts three times the tear strength of nylons that are almost 20% heavier. Additionally, Ballistic Airlight® is often woven using different techniques to create fabrics with radically different characteristics, such as fabrics that allow the garment to stretch or fabrics that "breathe" to release built up heat and moisture.
QUILTING PATTERN

Redesigning our quilting pattern also helped reduce weight. Quilting is very important to prevent down from settling, however, if the pattern is too elaborate, down won't be able to loft properly which creates cold spots. This innovative quilting pattern prevents down from settling and reduces cold spots but only uses half the amount of thread as our normal quilting pattern.
AQUA-TECT Zipper

This water resistant zipper eliminates the need for storm flaps, reducing weight and making it easier to zip and unzip.


Information for Down Leakage and Clumping (38-137)
Since this product is designed to be as lightweight and compact as possible, it is made using extremely thin, lightweight materials. Although the material is treated to prevent down leakage, it is possible for down to work itself out through the space between individual fibers. In the event that small feather spines or down clusters work their way through the fabric it is best to reach behind the fabric and pull the offending down cluster BACK INTO its down chamber. Gently massage the area to promote "self sealing" and re-align the fabric threads, while better distributing the down insulation.
Care Information
Washing Instructions
USE DOWN SPECIFIC DETERGENT
GENTLE CYCLE WASH WITH COLD WATER AND HANG IT TO DRY
IF YOU WISH TO USE A DRYER, PLEASE TUMBLE DRY WITH LOW HEAT
PATTING THE ITEM WILL HELP RESTORE LOFT TO THE DOWN
WASHING ONLY AT THE END OF SEASON SHOULD BE ENOUGH
DO NOT WASH FREQUENTLY, IT MAY CAUSE FABRIC DAMAGE