This ultra light model uses lightweight 10-denier fabric and a shorter rib length to get even lighter and more compact.
Specs
Material: [Fabric] 10-denier

 

Ballistic® Airlight nylon [DWR]

 

POLKATEX®

 

DWR treatment
Weight: 123g
Color: BLUE BLACK (BLBK), CHARCOAL GRAY (CHGY),

CHESTNUT (CHNT), TURQUOISE BLUE (TQB)

Open diameter: 88cm
Folded length: 26cm
#Actual colors may vary
Details
About Ballistic Airlight®

Ballistic Airlight® is made using the same nylon polymer as our Ballistic® material and a highly technical production process to create extremely fine, super thin threads. These threads are then woven into ultralight, gossamer fabrics that share the same characteristics as Ballistic®: one and a half times more abrasion resistance than other similar weight fabrics and boasts three times the tear strength of nylons that are almost 20% heavier. Additionally, Ballistic Airlight® is often woven using different techniques to create fabrics with radically different characteristics, such as fabrics that allow the garment to stretch or fabrics that "breathe" to release built up heat and moisture.
Folded size: U.L. Trekking Umbrella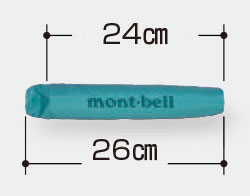 Safety Warnings (38-134)
Do NOT press the button on the runner when opening the umbrella. Press the button to close the umbrella.
Gently push and store the handle. May damage the umbrella if pushed strongly.
Umbrella may become damaged if used during strong winds.
Due to the use of ultralight fabric, the canopy requires special care. Be careful of sharp objects and open umbrella gently.
Umbrella ribs are pointed and may be sharp.
During use, be mindful of your surroundings and other people in the area.
Do NOT use if ribs or handle is damaged