Cycling jersey made with fabric that has superior moisture absorption and quick drying qualities, and a photocatalytic treatment that helps control odors. This shirt is densely knit to provide wind resistance and the inside of the fabric is brushed to provide warmth. This jersey is well suited for cool weather cycling. Original print design matches active cyclist image.
Specs
Weight:

352g




Color: BLUE (BL), FUCHSIA (FS)

Size: S, M, L (See our Sizing Guide)
Style#1130438
#Actual colors may vary
Details
About the material: Wickron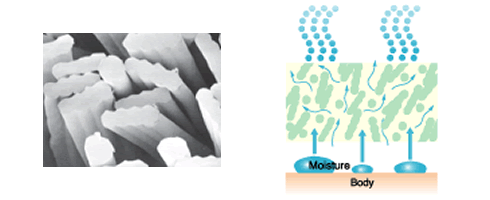 Made from 100% polyester fibers, the Wickron fabric is stretchable, soft like cotton, and odor resistant. It wicks moisture away from your skin and is very quick drying.

Once it is made, the Wickron fiber is mechanically dried, which gives it a "dog bone" cross section. By weaving these fibers, we obtained a lightweight, breathable material. Wicron products are great for use indoors and for warm weather activities.
Care Information
Washing Instructions
DRY WITHOUT DELAY SEPARATELY
AVOID USING FABRIC SOFTENER
CLOSE ZIPPER WHEN WASH